Ergonomski, ortopedski prilagođeni ruksaci
za školarce, za put na posao, za hobiste,
rekreativce, profesionalce, za roditelje...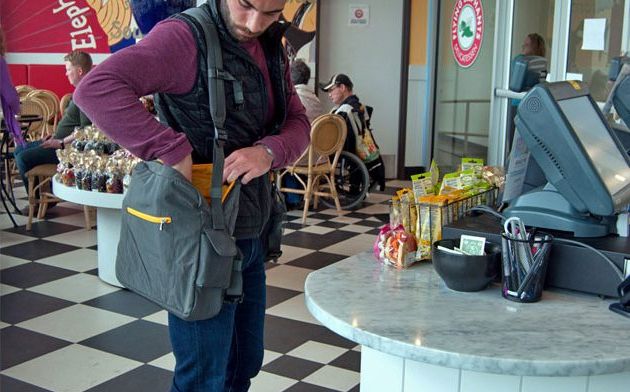 ---
Zašto BackTpack radi?
Za razliku od ruksaka i torbi nošenih na jednom ramenu, BackTpack - sa svojim uravnoteženim bočnim torbama - teret smješta na okomitu os tijela, eliminirajući na taj način distorzije stava i smanjujući potreban napor za nošenje tereta, poslušan zakonima fizike. Teret se čini lakšim a vi stojite uspravnije.
Gravitacijsko središte
Kada podupiremo neki teret kod nas nastaje novo gravitacijsko središte - koje je kombinacija gravitacijskog središta tijela uvećano za gravitacisjko središte tereta koji podupiremo. Kada je ono što nosimo smješteno na uravnotežen način lijevo-desno ili ispred-iza ili nam je na vrhu glave, gravitacijsko središte tog tereta poravnava se s našim gravitacijskom središtem.
No ukoliko je teret smješten izvan osi (dakle ispred, na jednoj strani ili iza), moramo se nagnuti u smjeru od tereta kako bismo naše novo gravitacijsko središte održali iznad svojih nogu te kako radi toga ne bismo pali. Stav koji zauzimamo mora se tada promijeniti i prilagoditi teretu koji nosimo. Što je teži teret, više se moramo i nagnuti.
Linija sile
Sila primijenjena za podupiranje tereta mora prolaziti kroz gravitacijsko središte tereta. Stoga i opet, kada je teret uravnotežen ili na glavi, sila podupiranja je jednostavno jednaka težini koju nosimo, samo u obrnutom smjeru: uspravno i gore.
Kada je teret smješten izvan osi, moramo vući u takvom smjeru da vlačna sila prolazi kroz gravitacijsko središte tereta. Ovo sili priododaje i vodoravnu komponentu koja se mora pridodati samoj težini tereta, što znači da je potrebna veća sila. Drukčije rečeno, teški ruksak traži naginjanje unaprijed i primjenu vlačne sile ramenima u smjeru naprijed. To je razlog zašto prilikom uporabe običnog ruksaka možete uočiti pogrbljena ramena i glavu pognutu unaprijed. S istim teretom nošenim u BackTpacku, eliminirate potrebu vučne sile prema naprijed.
To je ujedno i razlog zašto svi obično kažu: "Teret se čini lakšim!" - kada isprobaju BackTpack, nakrcan teretom iz njihovog dosadašnjeg, običnog ruksaka.
.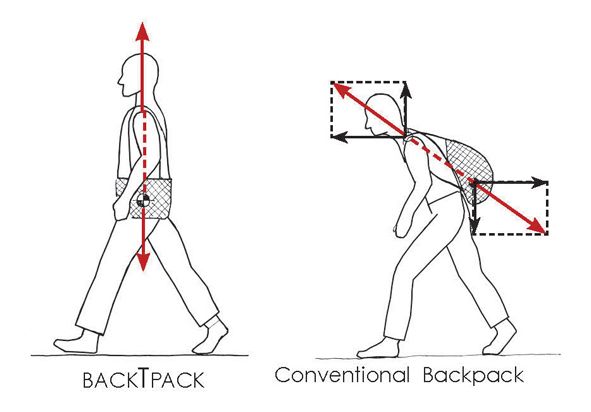 ---
BackTpack Mini
307,00kn
€42.00
The BackTpack Mini allows a small child to carry light items without distorting posture and movement. Small children can go off to school standing tall and moving freely.
While conventional backpacks distort posture, the BackTpack Mini develops good postural habits for a lifetime of spinal health.
One size, adjustable to fit children age 3 to 7

Adjustable compartment size

Adjustable shoulder straps

Adjustable chest strap

Easy for a child to put on, take off, and get into!
BackTpack 3
622,00kn (S)
€84 .00
705,00kn ( M/L )
€95.00
Third generation BackTpack for children and adults. Side bag carrying system with balanced load promotes good posture with easy access, comfort and security.
In 2 sizes to fit most children and adults.

Highly adjustable to accommodate different body types.

Small: For small framed adults and children age 6 and up. Fits shoulder width less than 16 in. (41cm); Hip circumference less than 37 in. (91cm).

Medium/Large: Fits shoulder width greater than 16 in (41 cm), Hip circumference greater than 37 in (91cm). 26% greater volume capacity than small size..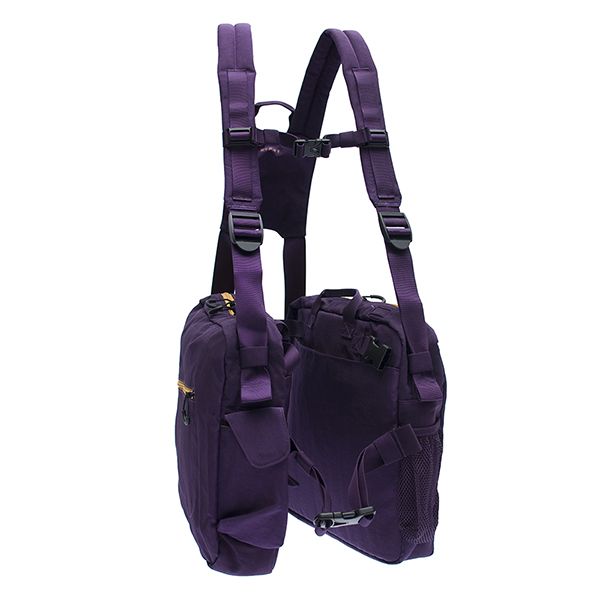 BackTpack 4
995,00kn
€135.00
Fourth generation BackTpack for children and adults. Dual side-bag carrying system that conforms to the natural body structure to train good posture.
One size fits adults and children from age 7 and up. Redesigned back panel and strapping system fits Small, Medium, and Large body sizes.
Highly adjustable to accommodate different body types.
Ample bag capacity same as Medium/Large BackTpack 3.
What's New About the BackTpack 4?
Narrower back panel creates a contour of shoulder straps for greater comfort, sizing, and stability on shoulders.

Locking system for hip width. It allows adjustment for narrower or wider hips, and holds the weight of the bags when leaning forward as in bicycling.

Streamlined design with angled zipper outer side-pockets.

Replaced Velcro with magnets or snaps.

Moved water bottle holder to exterior.

Headphone/tube port on each side.

Inside loops to secure hydration bladders.

Zipper pocket size has been increased to 10 inches x 7.5 inches to accommodate iPads and 45 rpm records for you vinyl collectors.

Hip-loading belt is an integral part of the bag, not an optional extra.